Compiling music for the previous post has been so much fun I think I will indulge on a regular basis.
(Which is exactly what we should do with things that make us happy, right? Indulge!)
Today's theme will be weather related: RAIN!
They say "If life gives you lemons, make lemonade". Well, I say "If life gives you rain, listen to music that talks about rain"!
Yes, if we're gonna soak the bottom of our pants, turn our umbrellas inside out, and completely mess our hairdos, let's make the most of it!
(Or simply listen to the rain. Who ever takes the time to do that? Yet it's so pleasant, so peaceful!)
Here's a sample of - very different - songs revolving around the semantic field of rain (or
pluie
, in French).
1) What everybody is probably thinking right now: Supertramp:
It's Raining Again
2 ) Maybe we wouldn't be complaining so much if it was raining... something else: Weather Girls:
It's Raining Men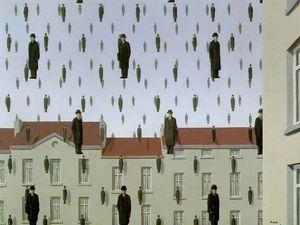 Magritte
... While we're at it, let's treat ourselves to this
exhilarating scene
from Bridget Jones' Diary, just because.
3) Who said rain was sad? (Apparently, back in the fifties, people actually appreciated rain!)
Gene Kelly:
I'm Singing in the Rain
(caution: do NOT show this video to young children unless you're ready to deal with completely soaked clothes, shoes and hair!)
Jacques Brel:
Il Peut Pleuvoir
4) Another sweet one from the fifties (yes, yes, I know, sometimes my musical tastes have me mistaken for an old lady):
The Cascades:
Rhythm of the Falling Rain
5) To finish up beautifully, here's one tune that has the perfect tempo to remind us of the best thing to do when the rain won't stop... hehehe... :
Prince:
Purple Rain
(plus, this version is almost long enough for... ahem!...)
I said ALMOST!!! lol